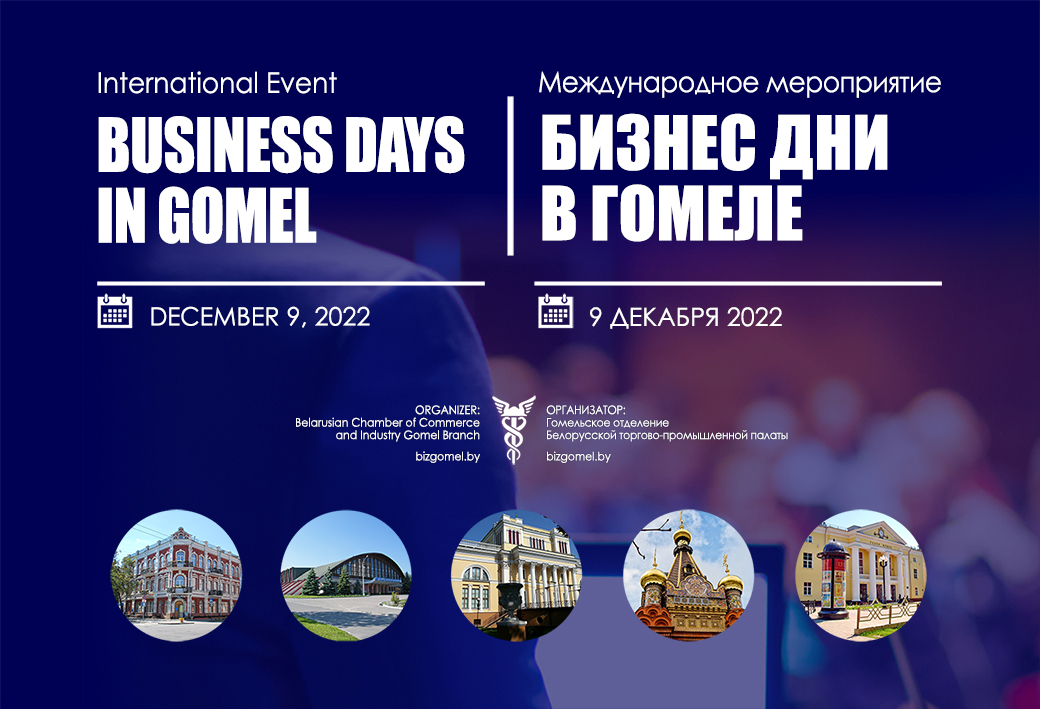 On December 9, 2022, the Gomel branch of the Belarusian Chamber of Commerce and Industry
organizes the International event "Business Days in Gomel" (program draft).
During 7 years, more than 2.5 thousand companies from 39 countries of near and far abroad took part in 24 discussion sessions of the event (archive).
The format of the Business Days dialogue platform is a great opportunity to share international experience, the latest trends, research results and achievements in the economic and humanitarian fields, to present successful practices of trade, economic, international cooperation, and current technological and logistical cases.
Showing interest in maintaining and expanding interregional contacts in the interests of the business community, leaders of the Gomel region, city of Gomel, representatives of diplomatic missions, chambers of commerce and industry, business associations and business circles interested in cooperation annually participate in the events. The catalog of participants is formed during the event
The main topic of this year's "Business Days in Gomel" is "Transformation of business opportunities, strategic planning: responses to the challenges of the time, new growth points." We invite Belarusian and foreign companies to express their opinions on current business trends: forms of industrial and trade and economic cooperation, new logistics and transport routes, import substitution and cooperation chains, ensuring food security, scenarios for the development of cross-border e-commerce, etc.
The formation of individual programs will make it possible to get acquainted with the potential of the Gomel region and conduct an effective dialogue (submit an application). Also, participants of the "Business Days in Gomel" have the opportunity to place presentation materials of companies on the electronic platform for international contacts GomelProBusiness (website bizgomel.by).
All the proposals made will certainly become the object of attention of the employees of the Gomel branch of the BelCCI.
We invite you to take part in the event.
We will be grateful for informing about your decision before November 25, 2022. Contact persons in the Gomel branch of the BelCCI:
Lisitskaya Veronika, Grom Ivan, tel.: +375 232 235-111, 22-18-74,
e-mail: ves@ccigomel.by.