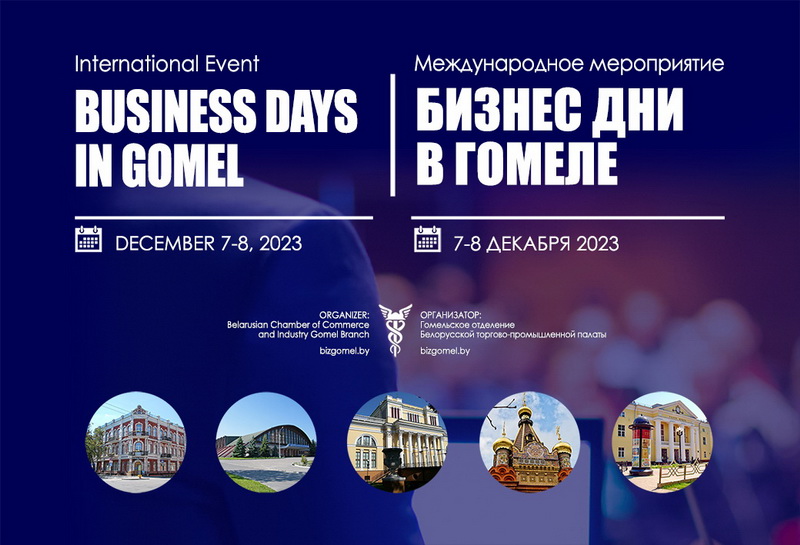 OFFICIAL PARTNERS
Gomel Branch of the Belarusian Chamber of Commerce and Industry together with Gomel Regional Union of Employers with the support of Gomel Regional Executive Committee and Gomel City Executive Committee
on December 7-8, 2023 organises the International event
"Business Days in Gomel".
For 8 years more than 3 thousand companies from 39 countries from near and far abroad took part in 26 discussion sessions of the event.
Main topics of this year's Business Days in Gomel:
Session 1 "Transformation of Business Opportunities in the New Environment: Responses to the Challenges of the Time, Points of Growth".
Topics for discussion: effective forms of trade and economic cooperation between regions; development of agro-industrial sphere, ensuring food security; logistics and transport routes; import substitution and cooperation chains; cluster approach: effective directions of development; interregional cooperation: successful experience for the development of socio-economic potential of the region.
Session 2 "Tourism as a Factor of Economic Development of Territories: Experience, Problems, Trends and Prospects".
Topics for discussion: tourism: from the economy of sightseeing to the economy of impressions; modern trends in the tourism industry of the Republic of Belarus and the Russian Federation; demands of the modern tourist – uniqueness and novelty; development of small and medium-sized businesses on the map of tourist routes; branding and rebranding as a basis for the formation and development of tourist potential of territories; investment and attraction of resources in regional tourism.
The official opening and plenary session of the "Business Days in Gomel" will be held on December 8, 2023 in the Business Centre of the
JSC "Gomel Chemical Plant" (Khimzavodskaya St. 5, Gomel), a business contacts exchange and negotiations on the announced directions will be organised.
Showing interest in maintaining and expanding interregional contacts in the interests of the business community, the "Business Days in Gomel" are annually attended by the leaders of the Gomel region, the city of Gomel, representatives of diplomatic missions, chambers of commerce and industry, business associations and the business community interested in co-operation.
Currently, interest in participation has been expressed by representatives of such countries as: Azerbaijan, India, Kazakhstan, China, Sudan, Uzbekistan, Poland, Germany, Iran, Pakistan and regions of the Russian Federation: Bryansk, Lipetsk, Novgorod, Smolensk, Tambov, Udmurt Republic, Stavropol Territory, St. Petersburg.
For the organisation of an effective dialogue on the proposals of foreign participants, individual programmes are formed, including visits to enterprises and B2B negotiations, including online.
On the website bizgomel.by:
– the detailed programme and topics of the presentations are available
– online registration is available
– in the "Business Partner" tab of bizgomel.by website we offer to place commercial offers and presentation materials.
Contact persons for:
– participation in sessions, B2B negotiations – Svetlana Ivanova, tel.+375 232 221-845, 235-111, 221-874, mob. +375296501381
(viber, whatsapp), e-mail: ves@ccigomel.by;
– official partnership, advertising, placement of commercial offers – Vitaliy Shevchenko, Lidiya Bazyl, tel. +375 232 237-111, 236-222,
mob. +375296501381 (viber, whatsapp) e-mail: rio@ccigomel.by.