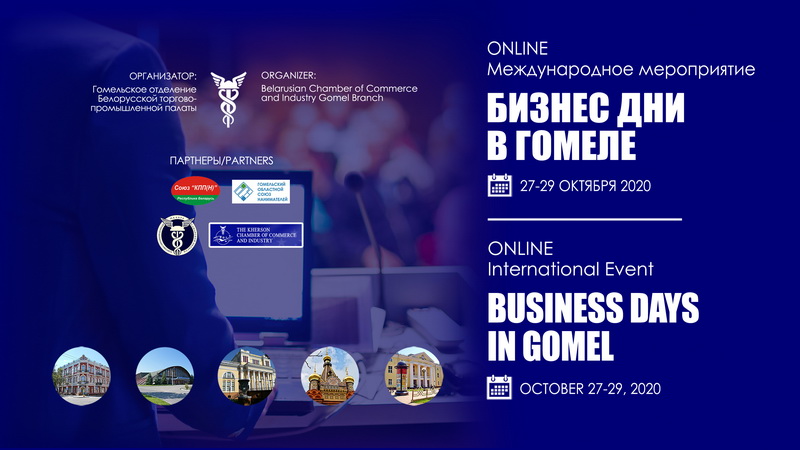 Gomel Branch of the Belarusian Chamber of Commerce and Industry organizes an international event "Business Days in Gomel" on
October 27-29, 2020. (program).
Over 5 years, more than 2 thousand companies from 30 countries of the near and far abroad took part in 18 discussion sessions: Russia, Kazakhstan, Ukraine, Armenia, Poland, Germany, Italy, Slovakia, France, Belgium, Israel, China, Vietnam, Australia, the United Arab Emirates, Canada, etc. The geography of the participating countries expands every year; this fact confirms the interest in Gomel region and the concept of "Business Days in Gomel".
During the event, the organizers invite to share experience and business practices: how to work in a new economic reality, where to find successful business solutions and new tools for attracting customers, interesting technology and marketing cases.
Considering the challenges of 2020, we invite Belarusian and foreign companies, business unions and associations to express their views in a dialogue format during sessions on the following themes:
Round table. Is interaction of business associations competition or effective dialogue?
Session 1. Consumer trends and upcoming reality. Modern approaches, effective models and successful practices in the agro-industrial sector.
Session 2. The new face of business – the transition from offline to virtual space.
Regardless of the session in which you plan your participation, we suggest posting commercial offers and presentation materials of your company on the sites: bizgomel.by, ccigomel.by.
Advertising materials and commercial offers in Russian and English have already been posted by more than 200 companies from 22 countries on the portal of the Gomel Branch of the BelCCI ccigomel.by.
Our team works through every request and multiplies your interests and priority areas of activity for a wide audience of potential partners.
The participation in "Business Days in Gomel" will expand your business contact database. The program will be complemented by master classes, presentations, webinars and specialized B2B negotiations. All the made offers will certainly become the object of attention of the staff of the Gomel Branch of the BelCCI, an individual approach will contribute to the successful dialogue with representatives of the international business community.
The event will be held for the first time on the GOMEL PRO BUSINESS virtual resource bizgomel.by. We offer this product to the active business community as assistance in finding new partners, participating in Belarusian and foreign online events 24/7.
Additional information is available on the website of the Gomel Branch of the BelCCI ccigomel.by.
Contact persons – Mikhail Zhitnikov, Veronika Lisitskaya, Vitaly Shevchenko: tel. +375 232 23-71-11, 23-62-22, 23-51-11,
e-mail: ves@ccigomel.by, vyd@ccigomel.by.
We invite you to take part
in "Business Days in Gomel" on the website bizgomel.by
The number of participants is limited. Organizer retain the right to confirm participation.