The Belarusian Chamber of Commerce and Industry and the Ministry of Foreign Affairs of the Republic of Belarus organized a videoconference "Africa – Belarus: current situation and new beacons for joint business projects".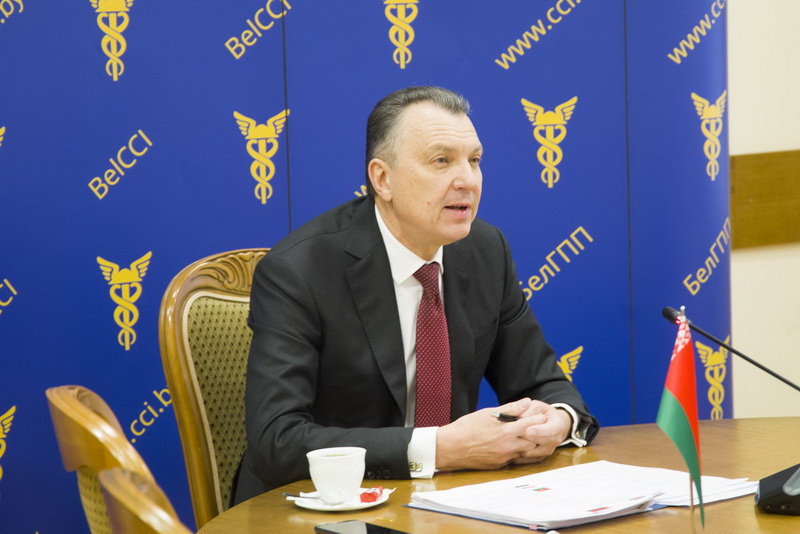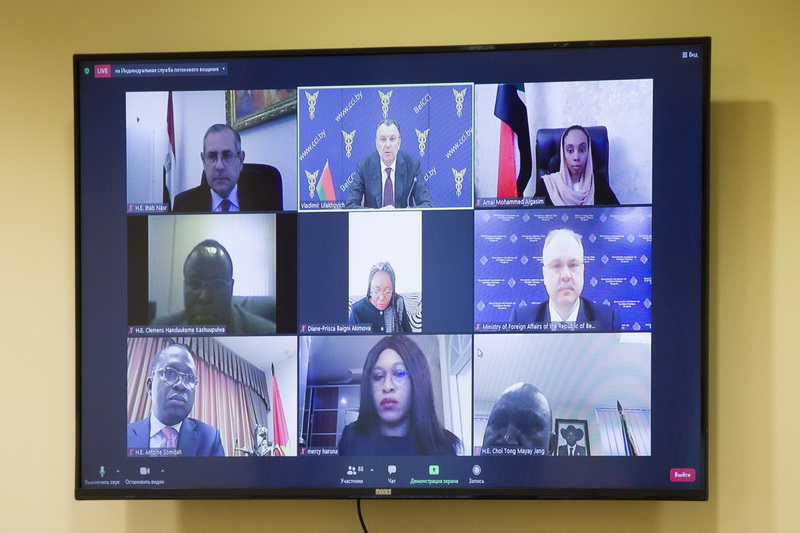 Participating in the videoconference were the BelCCI Chairman Vladimir Ulakhovich, the Ambassador Extraordinary and Plenipotentiary of Burkina Faso to the Russian Federation with concurrent accreditation to the Republic of Belarus Antoine Somdah, the Ambassador Extraordinary and Plenipotentiary of the Arab Republic of Egypt Ihab Nasr, the Ambassador Extraordinary and Plenipotentiary of the Republic of Namibia Clemens Handuukeme Kashuupolwa, the Ambassador Extraordinary and Plenipotentiary of the Republic of South Sudan Chol Tong Mayay Jang, Chargé d'affaires a.i. of the Federal Republic of Nigeria to the Republic of Belarus Mercy Haruna, Chargé d'affaires a.i. of the Republic of Sudan to the Republic of Belarus Amal Mohammed Algasim, representatives of the MFA of Belarus, diplomatic missions of the People's Democratic Republic of Algeria, the Republic of Djibouti, the Gabonese Republic, the Republic of Ghana, the Republic of Kenya, the Republic of Mauritius, the Kingdom of Morocco, the Republic of Sierra Leone, the Republic of South Africa, the United Republic of Tanzania, the Republic of Uganda, the Republic of Zambia, the Republic of Zimbabwe.
About 200 representatives of Belarusian enterprises and organizations joined the broadcast.
Vladimir Ulakhovich noted that the partnerships of Belarusian companies with the African continent are steadily expanding. Despite the difficult situation in 2020, Belarus still gained access to new markets of African countries. According to him, in terms of business, Belarus is primarily keen to cooperate with African countries in three main sectors. "Firstly, it is mechanical engineering and the development of relevant infrastructure. For example, there is an assembly plant for making Belarusian machinery in Egypt. Belarus is in talks over similar projects with several other countries. The second cooperation area concerns the manufacturing of food products, agricultural technologies and machines. Belarus is ready to offer the whole package of services to its African partners," the BelCCI Chairman said. The third avenue of cooperation is the services sector, namely education, healthcare, and IT.
"In addition, Africa has rich mineral deposits, from uranium to oil. This is African countries' national wealth, but they need partners to help extract it. They are willing to cooperate with Belarus in this field," Vladimir Ulakhovich underlined.
The heads and representatives of the African states' diplomatic missions presented the trade, economic and investment potential of their countries, the possibilities for the Belarusian businesses in these markets and promising projects in the fields of agriculture, mechanical engineering, mining, infrastructure development, transport and logistics, energy engineering, including the use of alternative energy sources, tourism, and other sectors. Besides, the diplomats reported on the advantages of doing business within the preferential zones in the African states, as well as on the large international events in the region that Belarusian businessmen can attend in 2021.
Based on BelTA data