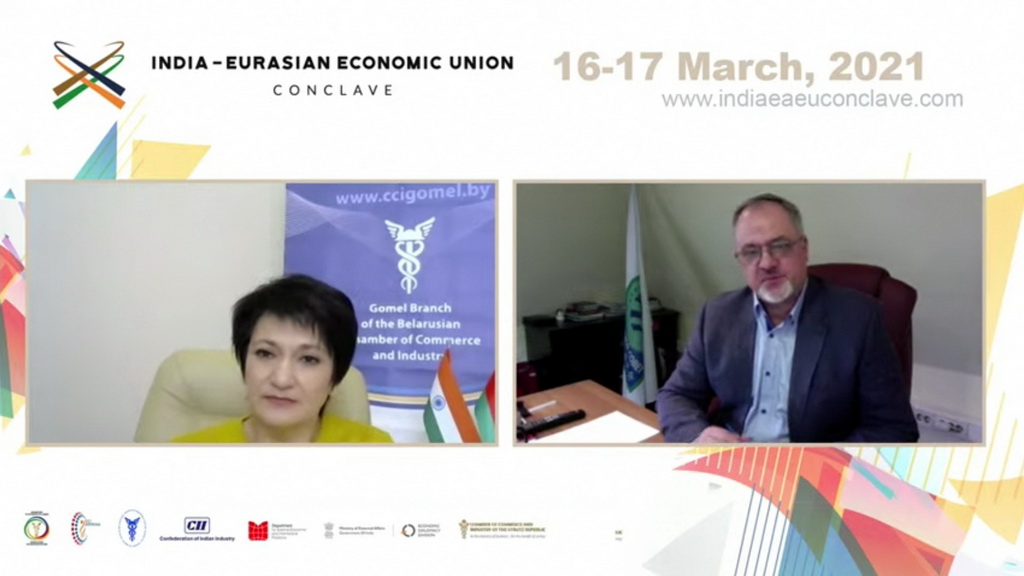 General Director of the Gomel branch of the BelCCI Marina Filonova took part a session of "India-EAEU" Congress.
The congress was held online on March 16-17, 2021, 83 speakers from India, Russia, Belarus, Kazakhstan and Kyrgyzstan spoke during six sessions. The Congress was organized by of the Business Council for Cooperation with India and the Confederation of Indian Industrialists (CII) with the support of Moscow Government and the Ministry of Foreign Affairs of the Republic of India.
The session "Support measures for small and medium-sized businesses during COVID-19" was moderated by Sergey Kanavsky, Executive Secretary of the Business Council of the Shanghai Cooperation Organization. Participants discussed the issues face by small and medium-sized businesses in the context of a pandemic, examples of successful experience in the development and application of regulatory mechanisms, as well as assistance programs for entrepreneurs provided by the government and specialized organizations.
In her speech, Marina Filonova, using the example of the Gomel branch of the Belarusian Chamber of Commerce and Industry, looked back on the experience of cooperation between the regional branch and Indian business in the new economic conditions, providing an example of participation of representatives of Indian business circles in key online events held by the Branch.
One of them is the international event "Business Days in Gomel", the partner of which in 2020 was the Confederation of Industrialists and Entrepreneurs (Employers) of Belarus. With the outbreak of the pandemic, the Gomel Branch developed an electronic platform bizgomel.by specifically to support and promote the interests of Belarusian business. Placement of commercial offers and presentation materials on it was free for members of the Chamber. This work was carried out in line with the strategy of the Belarusian Chamber of Commerce and Industry for the development of foreign economic activity of small and medium-sized businesses.