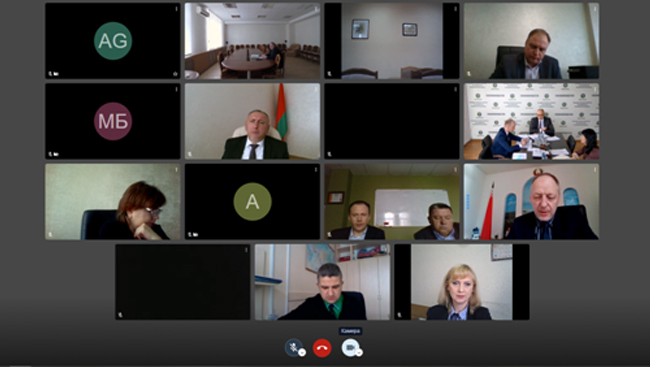 On March 17, 2021, the head of the Department of Foreign Economic Relations and Translations of the Gomel Branch of the BelCCI, V. Lisitskaya, took part in a meeting of the Belarusian part of the Working Group on Cooperation between the Republic of Belarus and the Udmurt Republic of the Russian Federation (in the video conference format).
The event was held by the State Property Committee of the Republic of Belarus, moderated by the Chairman of the Committee D. Matusevich
The meeting was attended by representatives of Belarusian enterprises: JSC "MAZ"-BELAVTOMAZ", JSC "Gomselmash", JSC " "Belkommunmash", "Administration of the Chinese-Belarusian Industrial Park "Great Stone",
LLC "Stikhno", JSC "UKH"Belavtodor", concern "Bellegprom", as well as the head of the office of the Embassy of the Republic of Belarus in Ufa.
During the event, the sides discussed issues of cooperation in the machine-building industry (including the supply of Belarusian equipment from MAZ, BKM, Gomselmash to the Udmurt Republic and the development of dealerships), the reconstruction of roads in Udmurtia, cooperation in the cultural sphere and the expansion of business contacts.
V. Lisitskaya made suggestions for expanding cooperation with Russian partners and participating in key business events in 2021 organized by the Branch, as well as signing a Cooperation agreement with the Union "Udmurt Chamber of Commerce and Industry".