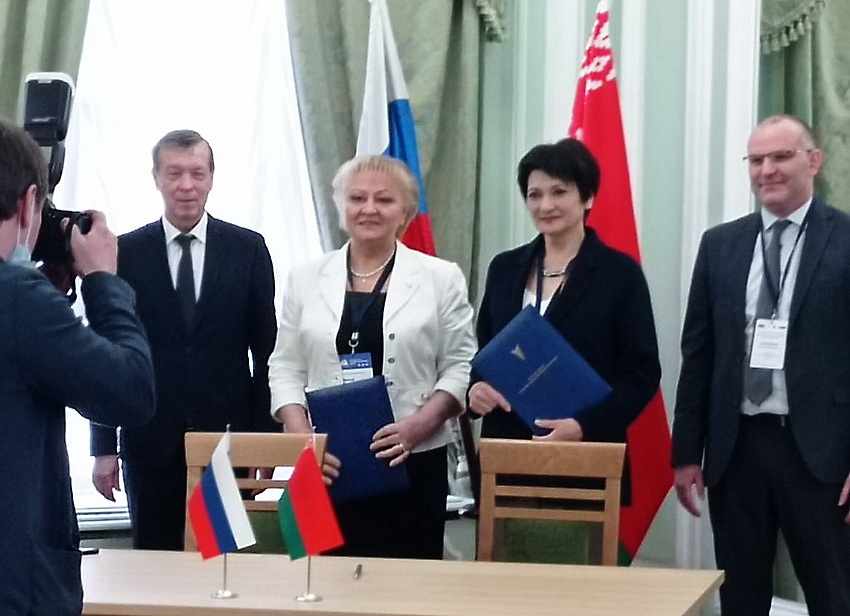 The Russian-Belarusian business Forum "Belarus – St. Petersburg: a Look into the Future" was held in St. Petersburg on March 30, 2022 with the participation of Prime Minister of the Republic of Belarus Roman Golovchenko, Vice Governor of St. Petersburg Maxim Sokolov, Ambassador Extraordinary and Plenipotentiary of the Republic of Belarus to the Russian Federation Vladimir Semashko, heads of ministries of the Republic Belarus, the Belarusian Chamber of Commerce and Industry, as well as more than 100 heads of Belarusian and Russian enterprises.
The main emphasis during the event was placed on the special importance of the business dialogue between Belarus and Russia in the context of the sanctions pressure of Western countries. The Forum provided ample opportunities for enterprises and organizations of both countries to get acquainted with each other's potential, establish new and strengthen existing direct ties, and conclude specific agreements and contracts.
Marina Filonova, Director General of the Gomel Branch of the Belarusian Chamber of Commerce and Industry, took part in the business forum. In order to intensify bilateral interregional cooperation in the trade and economic sphere and resume exhibition and fair events with the participation of Belarusian manufacturers in St. Petersburg, the Gomel branch of the BelCCI established cooperation with the "White Dews" Foundation for Russian-Belarusian Cooperation. During the event, a cooperation agreement was signed with the President of the Foundation Irina Rogova.