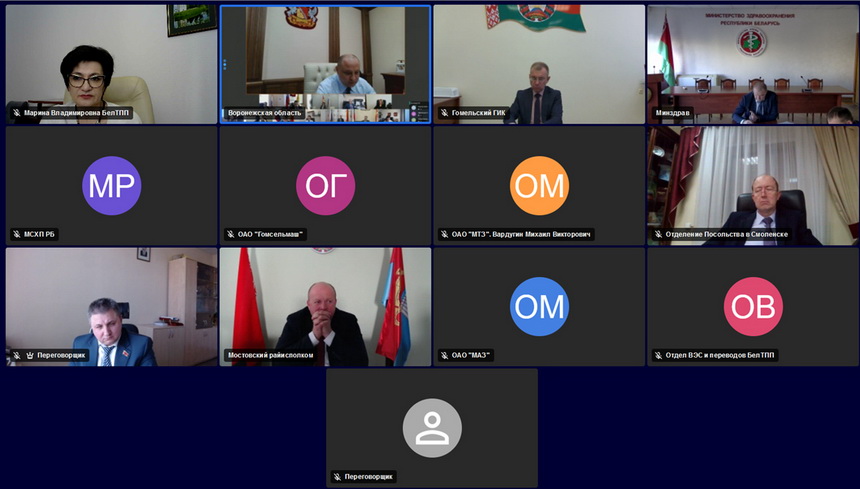 On February 28, 2023, Marina Filonova, General Director of the Gomel branch of the Belarusian Chamber of Commerce and Industry, took part online in a meeting of the working group on cooperation between the Voronezh region of the Russian Federation and the Republic of Belarus.
The event was moderated by Deputy Minister of Health of the Republic of Belarus Boris Androsyuk and Deputy Governor of the Voronezh Region – First Deputy Chairman of the Government of the Voronezh Region Vitaly Shabalatov.
The results of work for 2021-22 have been summed up. The heads of departments of the Voronezh region, as well as the Ministries and departments of the Republic of Belarus, informed about the plans for Belarusian-Russian cooperation for 2023.
Constructive cooperation with the Voronezh region is also carried out through the chambers of commerce and industry, closely in the course of her speech, Marina Filonova. Over the past year, 9 events have been organized by 4 Branches of the BelCCI: Brest, Gomel, Grodno and Minsk.
An important role in the business sphere is played by industry-specific B2B. Using the industrial potential of the Chernozem region, it is necessary to pay attention to identifying and strengthening conflicts in petro chemistry, agricultural engineering, machine tool building and other environments. The Gomel branch of the BelCCI is ready to organize such business meetings.
In addition, business tourism is actively developing (with visits to the industrial enterprises of the region), there is the possibility of organizing joint press tours on the territory of the Gomel region.
As part of the development of regional cooperation with Russian partners, the General Director of the Gomel branch of the BelCCI invited the head of the Union of the Chamber of Commerce and Industry of the Voronezh Region Sergey Petrovsky, together with the business community of the Voronezh Region, to visit the Republic of Belarus in 2023 and take part in business events: the International Specialized Exhibition "BELAGRO", the International exhibition "Spring in Gomel" International event "Business Days in Gomel".
For her part, Marina Filonova confirmed her interest in participating in the Voronezh Industrial Forum (May 18-19, 2023), Voronezh Field Day (June 23, 2023) and others.