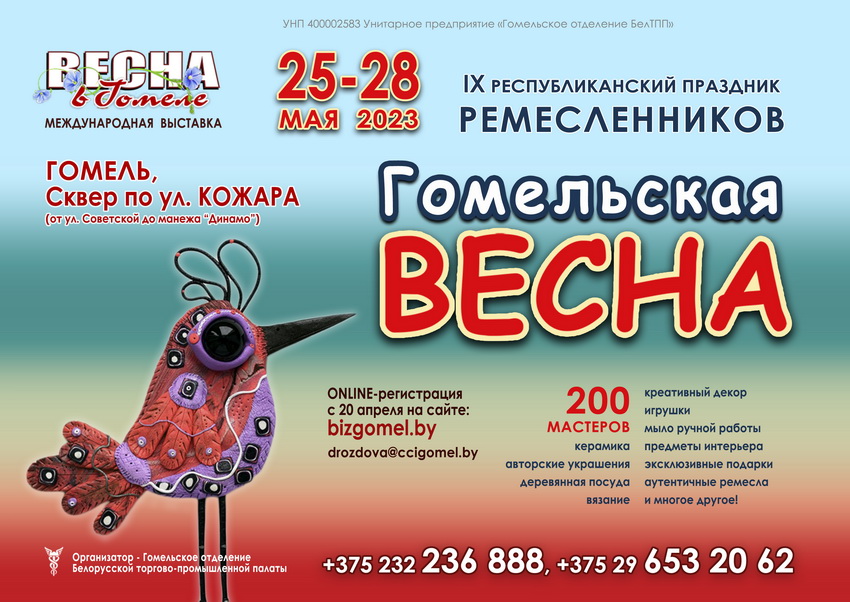 On May 25-28, 2023, the Gomel branch of the Belarusian Chamber of Commerce and Industry will organize the IX Republican holiday of craftsmen and artisans "Gomel Spring"!
The event is held as part of the largest regional exposition of Belarus – the International Exhibition "Spring in Gomel".
Venue – Kozhara Street (Druzhby Square from Sovetskaya Street to the Dynamo Track and Field Arena – in general, about 700 meters in two lines of the alley)
The holiday is a place for the exchange of experience, a wide presentation of their works and the possibility of selling them. The event will be widely covered in the media and on the Internet.
All interested creative people of Belarus and other countries are invited to participate.
For visitors, options for organizing budget accommodation are being worked out (call the phone number below or report in the online registration form).
For Belarusian participants, a registration fee is introduced – 68 rubles for 4 days of the holiday.
Organizer – Gomel branch of the Belarusian Chamber of Commerce and Industry
Drozdova Natalia +375 29 653 20 62, +375 232 236 888
e-mail: ndrozdova@ccigomel.by